Risk Management in Jira: Streamlining the Process with Powerful Tools
Risk Management in Jira
In today's fast-paced and ever-evolving business landscape, effective risk management plays a crucial role in ensuring project success and organizational stability. With the rise of digital solutions, integrating risk management practices into existing project management platforms has become a priority for many companies. In this article, we will explore how Jira, a leading project management tool, empowers teams to streamline their risk management processes together with a Jira app for risk management: the SoftComply Risk Manager. Discover the benefits of leveraging Jira's and SoftComply Risk Manager's robust capabilities for risk management in Jira and how it can revolutionize your organization's risk management practices.
Enhance Risk Identification and Assessment with Jira
The SoftComply Risk Manager on Jira offers a comprehensive set of features to facilitate the identification and assessment of risks throughout the project lifecycle. By utilizing its customizable fields and workflows, teams can capture critical risk information, including probability, impact, and mitigation strategies. With risk management in Jira, organizations can centralize risk data and maintain an up-to-date records of potential threats, ensuring proactive decision-making and mitigation efforts.

Streamline Risk Monitoring and Control
Efficient risk monitoring and control are essential for effective risk management. Jira provides real-time visibility into project status and the SoftComply Risk Manager links it with associated risks, enabling teams to promptly identify emerging threats and take necessary actions. Through custom dashboards and reports, the SoftComply Risk Manager on Jira enables stakeholders to monitor risk trends, evaluate mitigation measures, and make informed decisions to minimize potential disruptions.

Collaborate and Communicate Effectively
Effective communication and collaboration are paramount for successful risk management. With Jira's integrated communication tools, teams can easily also share their risk-related information, updates, and mitigation strategies. The ability to assign tasks, set due dates, and track progress ensures seamless coordination and accountability among team members. By fostering open and transparent communication, Jira together with the Risk Manager app strengthens risk management practices within the organization.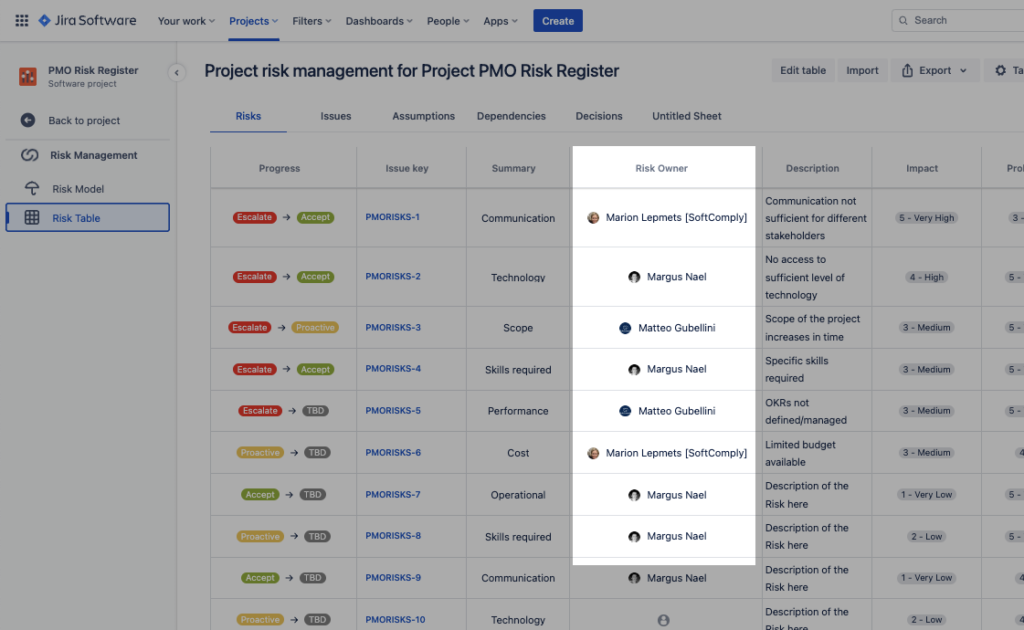 Automate Risk Escalation and Notifications
Timely risk escalation and notifications are critical for proactive risk mitigation. Jira allows teams to automate risk escalation based on predefined thresholds, ensuring that key stakeholders are alerted promptly when risks exceed acceptable levels. By leveraging Jira's notification system, organizations can facilitate timely actions and minimize the potential impact of identified risks.
Integrate Risk Management with Project Workflows
Seamless integration between risk management processes and project workflows is vital for efficient risk management. Jira's flexibility and extensibility enable organizations to customize workflows and incorporate risk management activities seamlessly. By integrating risk management to Jira's project workflows, teams can ensure that risk assessment, mitigation, and monitoring are an inherent part of their project management processes.
Ensure Compliance and Traceability
Compliance with industry standards and regulations is a critical aspect of risk management. The SoftComply Risk Manager provides features that enable organizations to link risks to specific requirements and test cases. This ensures traceability and accountability, helping organizations mitigate legal and financial risks effectively.
Improve Risk Reporting and Analysis
Accurate and insightful risk reporting is key to proactive risk management. SoftComply Risk Manager on Jira together with the Risk Manager for Confluence offer powerful reporting and analytics capabilities, enabling organizations to generate customized risk reports, track risk trends, and perform in-depth risk analysis. By leveraging their reporting features, organizations can identify patterns, assess risk impact, and make data-driven decisions to optimize risk management strategies.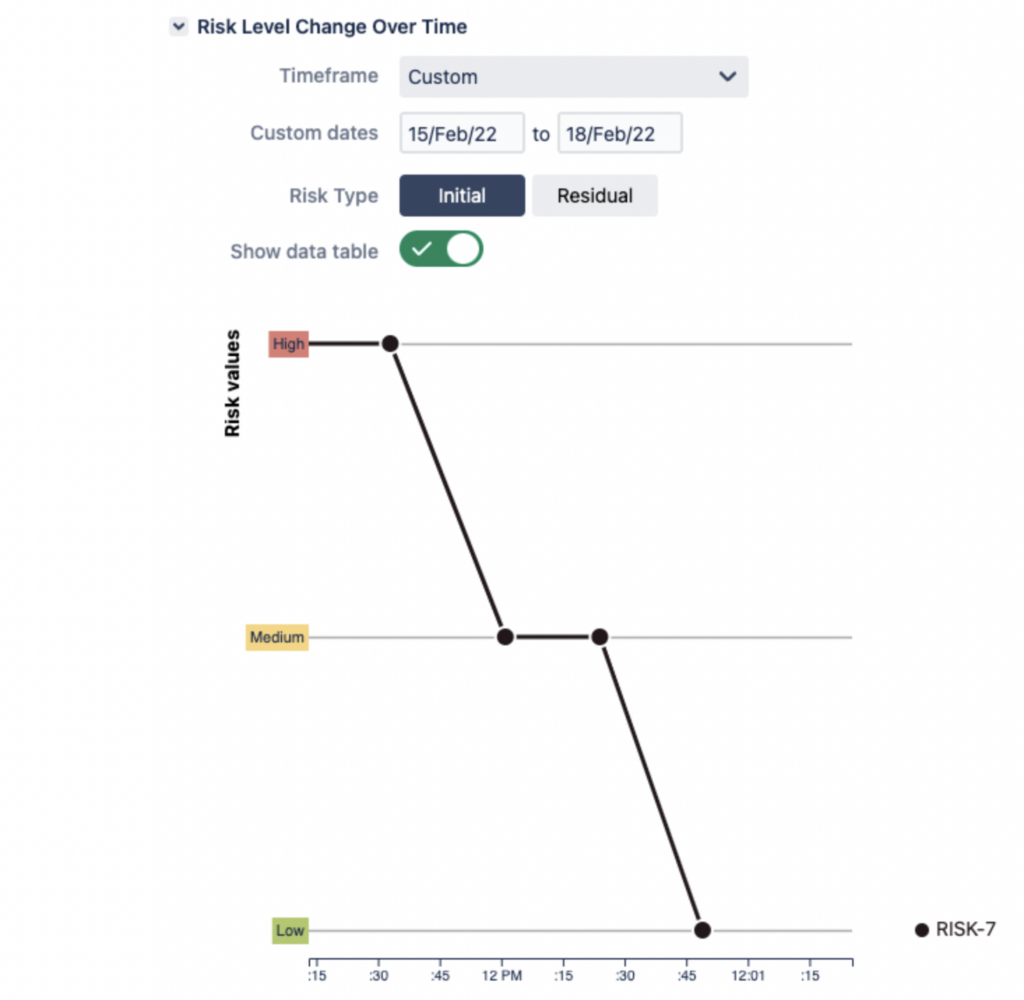 Conclusion
With its robust features and flexible configuration options, SoftComply Risk Manager on Jira Cloud empowers organizations to streamline risk management processes and enhance project outcomes. By utilizing the SoftComply Risk Manager in Jira, teams can identify, assess, monitor, and control risks effectively. The seamless integration with project workflows, collaborative communication tools, and powerful reporting capabilities make the Risk Manager on Jira Cloud an invaluable asset for organizations aiming to elevate their risk management practices. Embrace SoftComply Risk Manager's comprehensive capabilities for project risk management in Jira, and unlock the potential to proactively manage risks and ensure project success in today's dynamic business environment.
Learn More
When you are using Jira Cloud, you will be able to trial the SoftComply Risk Manager for free for up to 30 days.
When you are on Jira Server or Data Center, you can trial the SoftComply Risk Manager or the Risk Manager Plus for free for up to 6 months.
In case you would like to get an introduction of the apps before the trial, we'd be happy to walk you through the features of the apps at a time that works for you. Feel free to book a time for a demo in our Risk Manager calendar – Demo of the SoftComply Risk Manager app on Jira – SoftComply.