Managing the RAID Log in Jira
Effective risk management is essential for any successful project or initiative. The risks, assumptions, issues, and dependencies framework is one approach that organizations can use to identify, assess, and mitigate potential problems that could affect their projects. In this blog post, we'll explore RAID framework for project risk management and its benefits.
WHY USE RAID?
The 4 Main Benefits of Using the RAID Framework for Project Risk Management are the following:
Early identification of potential risks: By using the RAID framework, organizations can identify potential risks early on in the project lifecycle. This allows teams to take proactive measures to mitigate or avoid risks before they turn into major issues. By being proactive, organizations can save time and resources, and avoid costly project failures.
Improved decision-making: By examining assumptions and testing them against reality, teams can make more informed decisions about project strategy and resource allocation. This can help to ensure that projects stay on track and that resources are used effectively.
Minimized impact of issues: Issues are an inevitable part of any project, but by identifying and addressing them quickly, teams can minimize their impact. By using the RAID framework to manage issues, organizations can keep their projects on track and avoid costly delays.
Anticipation of dependencies: Dependencies can be complex and challenging to manage, but by understanding them and anticipating potential problems, teams can take steps to minimize their impact. By using the RAID framework to manage dependencies, organizations can ensure that all aspects of the project are working together effectively.
What exactly is RAID?
Risks are potential events or circumstances that could negatively impact the project. These can include anything from technical issues to economic or market conditions.
Assumptions are the beliefs or expectations that team members have about the project or its outcomes. These can include assumptions about the availability of resources, the capabilities of team members, or the willingness of stakeholders to support the project.
Issues are problems that have already occurred and are impacting the project. These can include anything from missed deadlines to unexpected changes in requirements.
Dependencies are the relationships between different aspects of the project. These can include dependencies between tasks, teams, or stakeholders.
By incorporating this framework into project risk management processes, organizations can improve their chances of success and reduce the likelihood of costly failures.
So whether you're leading a small project or a large-scale initiative, consider using this framework to help manage your risks and ensure that your project stays on track.
MANAGE YOUR RAID IN JIRA
If you are using Jira for your day to day project management, you can now use the SoftComply Risk Manager Plus on Jira Cloud to integrate your RAID to Jira. SoftComply Risk Manager Plus comes with a multi-sheet risk table view where you can manage risks, assumptions, issues and dependencies separately and link them to other Jira issues for full traceability.
1. Manage your RAID in Jira with the SoftComply Risk Manager Plus
By empowering delivery teams to raise and mitigate their own Risks, Issues, Assumptions and Dependencies in the same Jira Project that they use to manage delivery every day, you get the potential to have a more proactive project risk management culture.
You can keep different types of risks in different Sheets of the Risk Table for better project risk management and overview:

2. Assign Risk Owners in Jira
We've all suffered from the barrage of email ping-pong when tracking the risk mitigation actions. Perpetually chasing nominated Risk Owners to see if something's been done is very time consuming and can be a full time job on its own.
Having risk items in Jira allows the Project Manager to create automation rules (available out-of-the-box) for sequenced follow-up of outstanding tasks to a due date.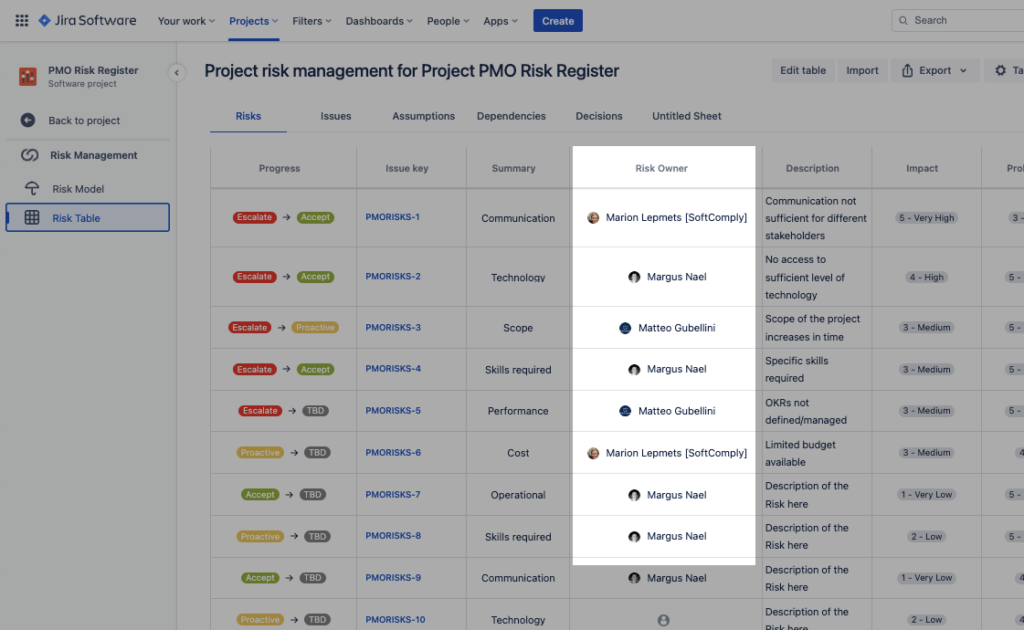 3. Risk Reporting in Jira and Confluence
The SoftComply Risk Manager Plus for Jira Cloud has great dashboard gadgets that can be added in seconds to a Jira reporting dashboard & Risk Reports (as macros) to your Confluence pages.
An example of a Risk Matrix dashboard gadget of the Risk Manager Plus: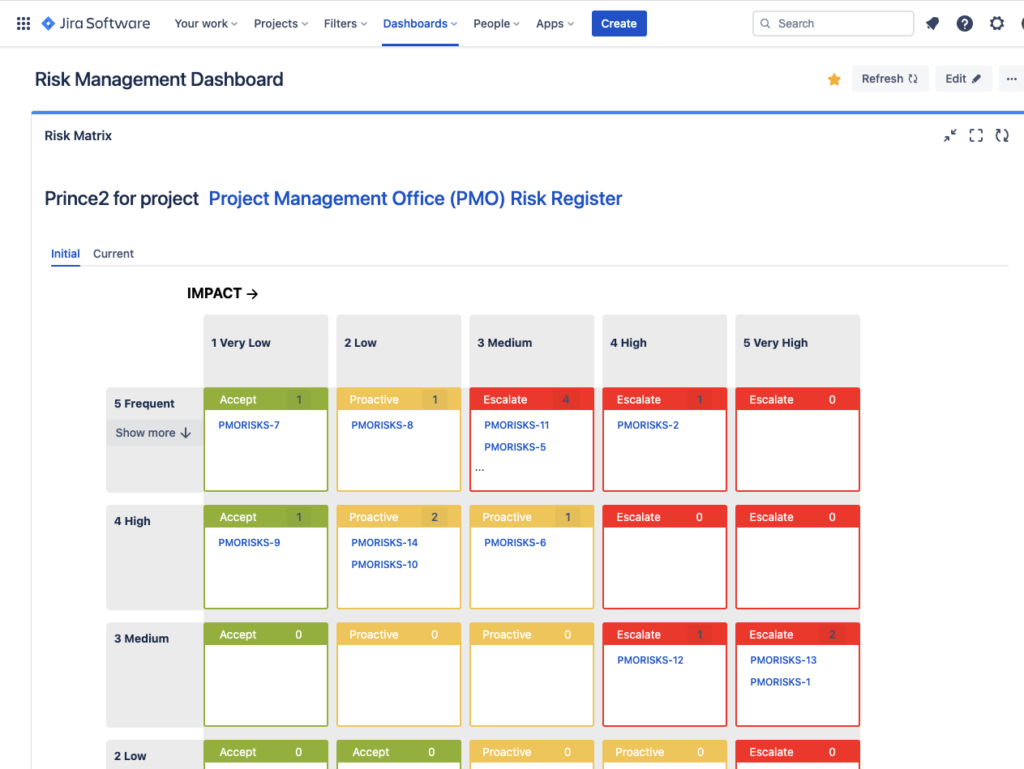 You can also add the SoftComply Risk Reports on any of your team's Confluence page. These reports are automatically updated in real time.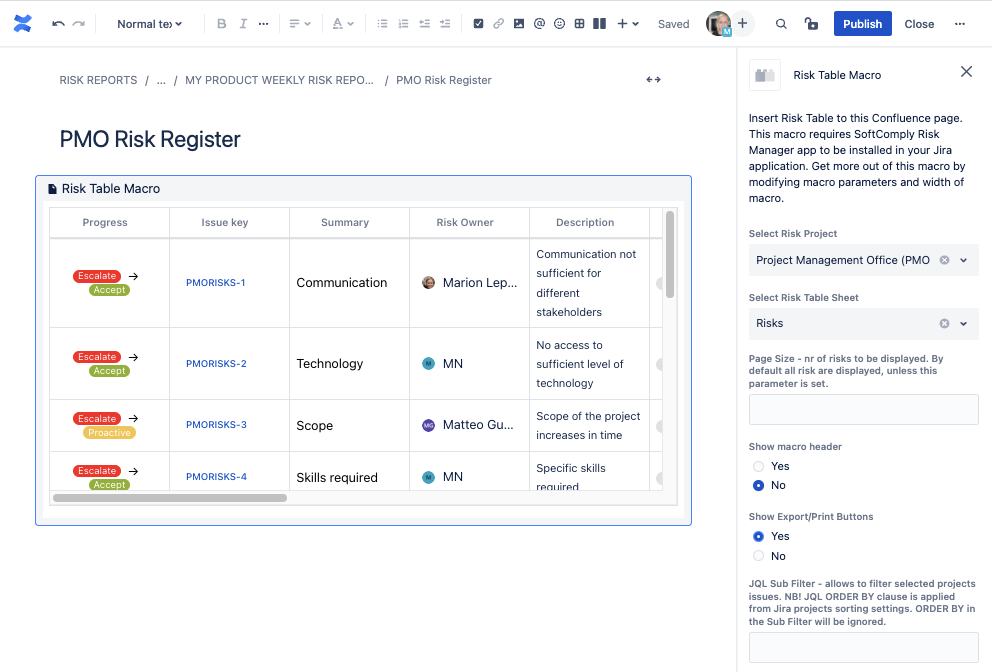 4. Full Audit History
A Risk Register in Jira gives the ability to see the full history of who created, edited and worked on every risk item – it will make the Risk & Compliance department your biggest supporter.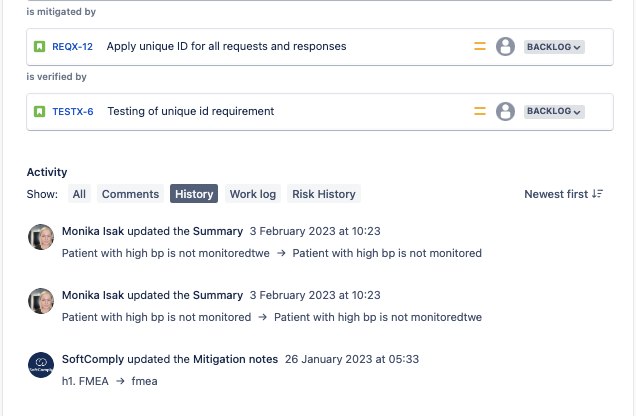 Learn More about the SoftComply Risk Manager Plus
Join us at a Webinar on Project Risk Management on May 11th at 5pm CET (Register here), or