SoftComply Risk Manager vs Risk Manager Plus on Jira Cloud
SoftComply has released 2 Risk Management apps on Atlassian Jira: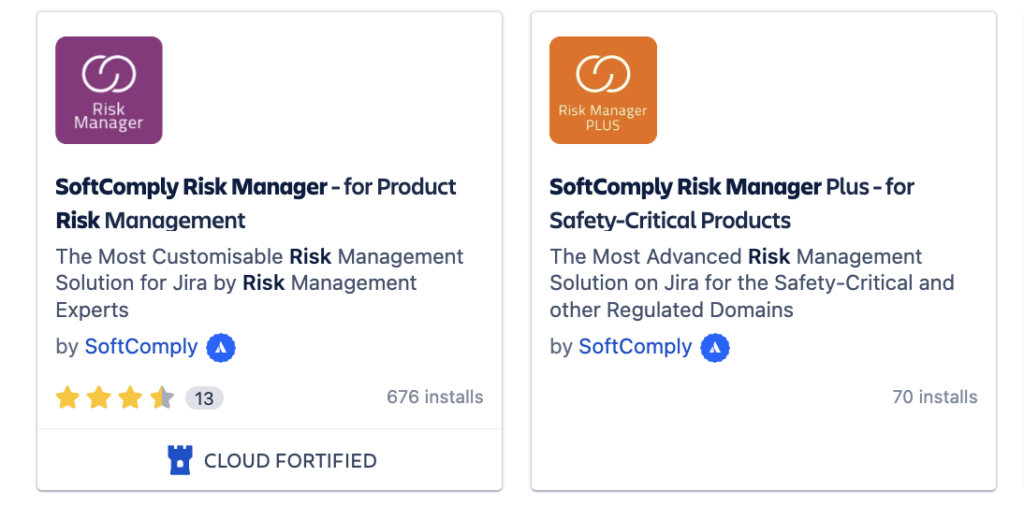 The Risk Manager has been available on Jira Cloud for several years already whereas the Risk Manager Plus has only recently been released on Jira Cloud having been available earlier only to self-hosted Jira users.
The Risk Manager was originally built for medical device risk management and today it incorporates the functionality for product, project and security risks.
The Risk Manager Plus is a more advanced app meeting various risk management process requirements. Thanks to the full customisability of the risk assessment model, risk evaluation method and risk spreadsheet (with several sheets), you can easily manage all your product, project and organisational risks with the app. The Risk Manager Plus is developed for the most advanced risk management needs of the safety-critical industries as well as for a wide variety of organisational risk management needs including RAID.
Below is a comparison between the SoftComply Risk Manager and the Risk Manager Plus apps on Jira Cloud.
First, the comparison is highlighting the differences between the main out-of-the-box Use Cases and Features of the two apps. The comparison then looks into the details of Risk Views, Risk Assessment and Evaluation methods, and their customisability. Finally, the table lists the differences between the two apps from the point of view of your Jira administrator regarding the setup of the app across your organisation.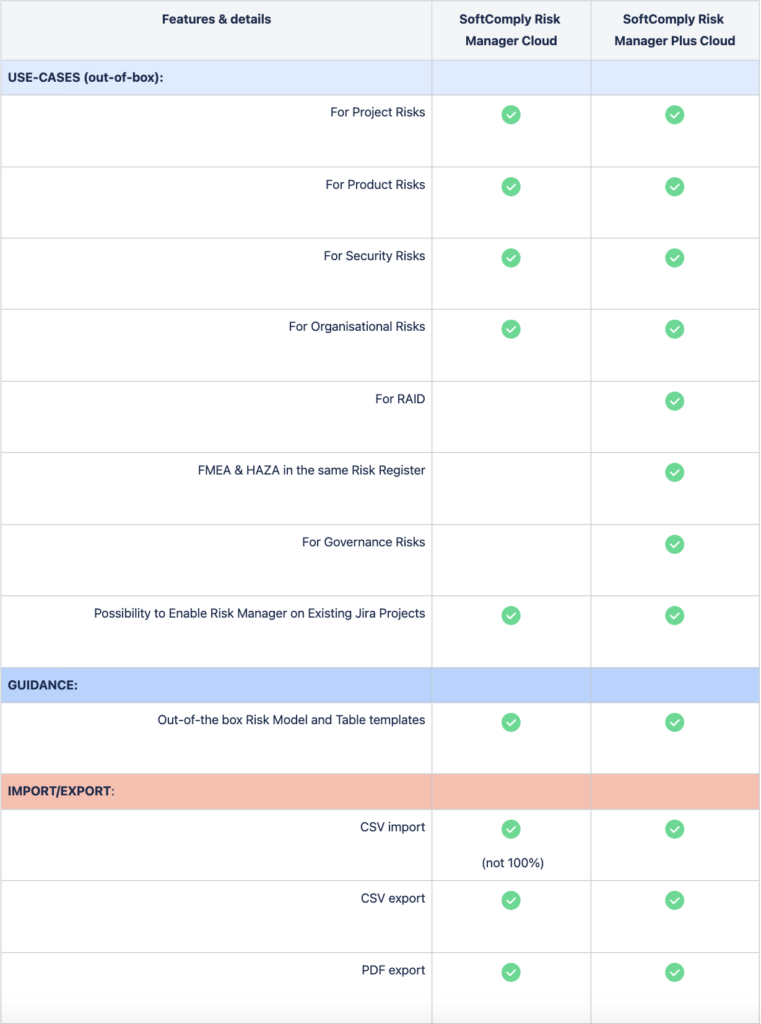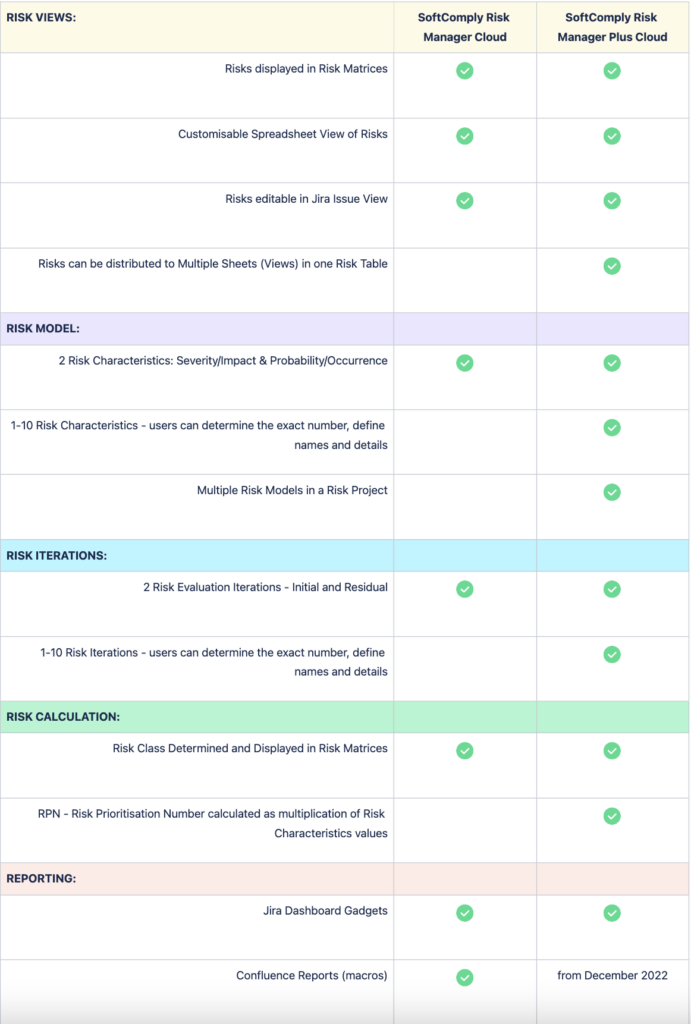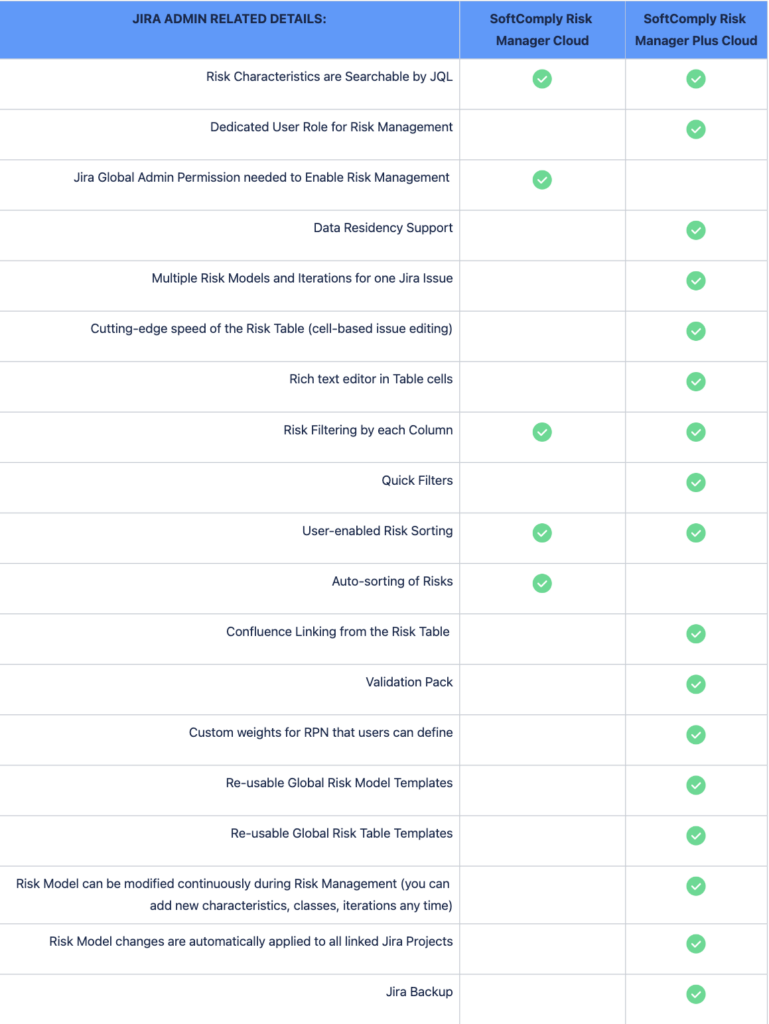 Both risk apps, the Risk Manager as well as the Risk Manager Plus, can be trialled for free for 1 month.
Additional features of the SoftComply Risk Manager Plus that are currently being developed and will be released in the next few months are the following:
Risk Reporting in Confluence Cloud (macros for Risk Matrices, Risk Tables and Risk History),
Migration from Risk Manager to Risk Manager Plus
Atlassian Cloud Fortified badge
In case of any questions or wish to discuss more about the differences between the apps, please contact us at SoftComply.
In case you would like to learn more about our risk management apps on Jira, feel free to book a live demo for you and your team.