End App Fatigue with one Risk Management Solution
For decades organisations have been struggling with working in silos with different departments working with several stand-alone software tools, each for a specific task. With tools like Jira and Confluence that cater to a variety of different needs you can set up your entire organisation on one platform.
So, there should be no more complaints?
As always, with new ways of working, new pains surface.
Are you suffering from "App Fatigue"?
Our customers from the regulated domains find themselves using tens (if not hundreds) of different applications on Jira and Confluence. Most of these apps are small and each automates a specific functionality for a specific task.
With this, you will find yourself juggling multiple tools and talking to multiple vendors to understand how each app works. This fragmented work can lead to inefficiencies, increased complexity, with your teams still working with different tools.
Let's take Risk Management as an example – most companies need to apply Risk Management as a process across their organisation. There is a need to manage project risks as well as product risks, organisational and business challenges, perform vendor assessments, and keep an eye on the cybersecurity threats.
A unified solution is a game-changer to implement a general and seamless risk management for your organisation. It eliminates the need for different tools from different vendors while increasing efficiency, transparency, and productivity. Whether it's identifying potential pitfalls in a project, evaluating risks associated to a product safety, addressing organisation's business challenges, or fortifying against cybersecurity threats, a full-rounded Risk Management Solution helps your team to take on the entire risk landscape.
In a world where risks are diverse and dynamic, a unified approach to risk management is the key to resilience and sustained success.
SoftComply Risk Management Solution on Atlassian Cloud
This Risk Management Solution supports the management of any type of risk with its customisable Risk Assessment Models and multi-sheet Risk Register where you can assess various types of risks with different assessment models within one Jira Project. Additional modules for Information Security Risk Management for ISO27001 compliance and asset libraries that you can create are also available to your risk management teams.
Risk Reporting is not limited only to Jira Dashboard but you can also bring reports into your Confluence pages with the free Risk Reporting extension.
Finally, should you be in the Regulated Industries facing the requirement of software tool validation, we've got you covered: the SoftComply Risk Manager Plus has its own automated Validation app for automated tests of the Risk Manager Plus that you can run once a week generating the required Validation documentation.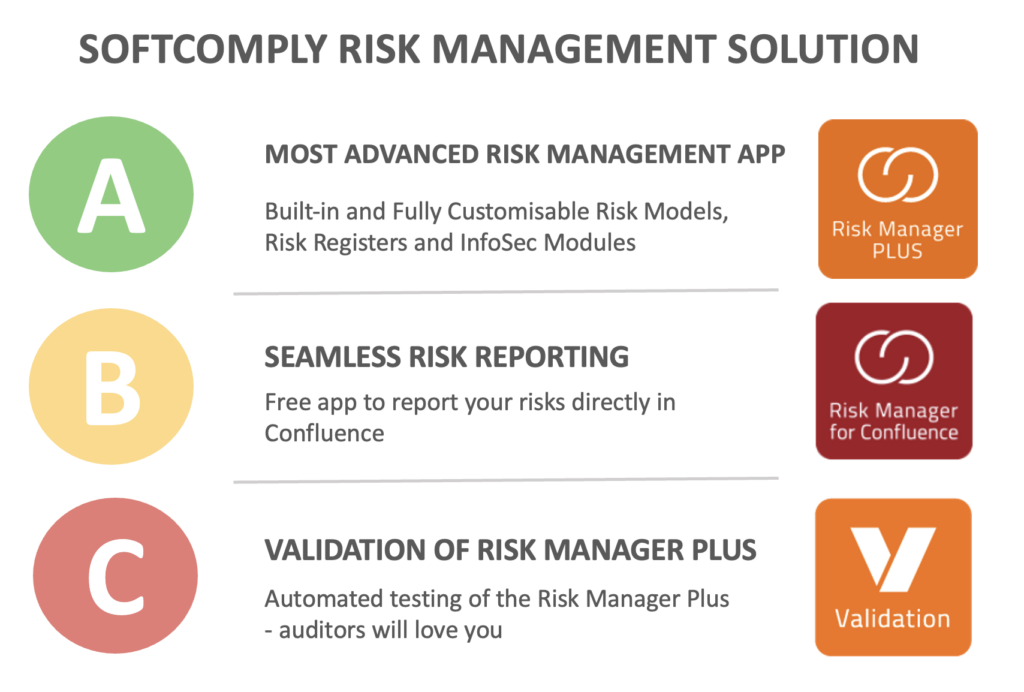 Learn More
You can learn more about the SoftComply Risk Management Solution at a Live Demo with our team: schedule the demo of the Risk Management Solution here or check out the videos about the solution in SoftComply's YouTube Channel.