Relationship between FDA & ISO 13485
The relationship between the FDA and ISO 13485 goes back a long time.
The ISO standard has been in the list of General Consensus Standards since the dawn of times, but there has never been a full alignment between 21 CFR 820 (QSR) and ISO 13485.
It's like these couples that have been together forever, but they never did the final commitment. You know, changing the residential address, arranging the wedding, the paperwork, the rings, the dresses, the pressure from the parents, the cost of the reception…
In 2016 our lovely ISO 13485 made a significant step, realigning some if its content with the QSR, but although the FDA has "announced" several times its own step, this has now been delayed for several year (at least 5 times).
New rumours say that the FDA should release a draft version of the new QSR in June 2021.
Is this going to be the one? Well, we are already in the end of June and the FDA's track records are not encouraging, but we want to believe.
Worst case, ISO 13485 is a modern woman, strong and independent, and will stand proud for as long as it takes. Eventually the FDA will go down on his knee, and there will be confetti, doves and rose petals.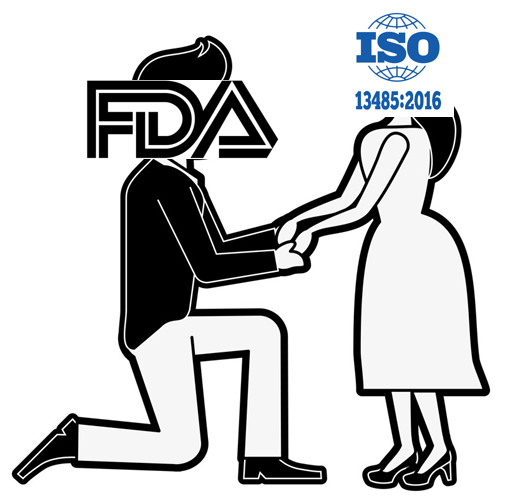 Here at SoftComply, we will shed tears of joy thinking of when we could simplify our eQMS, without making sure that every single small difference is captured in the relevant process…
In the meantime, keep faith and stay tuned!
In case you would like to learn more about the SoftComply eQMS Solution on Confluence, please contact us for a live demo.
Note: the content of this article does not want to discriminate the LGBTQIA community by using the he/she notation, feel free to change it as you prefer. We also do not discriminate about religious vs non-religious weddings, civil partnership, hard-core bachelors / bachelorettes and people who put pineapple on pizza. If you feel offended by this content, you missed the point, by miles.