How to Create a Risk from a Jira Support Ticket?
Introduction
Jira is the most flexible task management tool there is. No wonder that more than 200'000 companies across the world have found it useful. It helps software teams build their products, prioritise their backlog and manage any upcoming issues within their team. Most of these companies are using Jira Service Management to collect customer feedback after product release.
It has taken a little longer but the "business" has now followed the software teams' lead in using Jira. An increasing number of Risk Managers, Compliance Officers and Quality Managers have been turning to us to understand how to best use Atlassian and SoftComply's apps for their work. Anybody who handles risks knows that a strong link has to be established between risks and the rest of the development tasks logged in Jira.
Jira Support Requests & Risks
Oftentimes, customer feedback, complaints and other requests may actually be a source of risks or may cause them. If you are using Jira Service Management (JSM) to manage your customer support requests, you may also wish to automate the link between your Service Management and your Risk Project.
First, please consider which of the following two options best describes your use case:
Service Management issue itself is considered to be a Risk and you want to manage it in a Service Management Project (e.g. Risks are part of JSM projects like other customer requests).

Note: Risk managers who manage risks require access to JSM or JSM software license.

Service Management issue could be a Cause of a Risk and you want to manage it in your Risk Management Project.

Note: Requires Jira automation to automatically create a new Risk in the Risk Table with a link to the JSM issue as a Cause. Automation rule described in the steps below.
Jira Support Request = Risk
Steps to take when you want to manage your JSM issue as a Risk:
Configure your JSM project to accept new Risk issues:

Change your issue type scheme and add new issue type for risks there,
Create a new request type and set up the portal view for customers.

Enable the SoftComply Risk Manager app in your Service Management Project:

Customize your Risk Model and Risk Table views,
If needed, you can also add the Risk Management fields (Severity, Probability) to the customer portal view.
Once you have implemented these steps, every new JSM issue that is identified as a risk can now be managed inside the JSM project by using the SoftComply Risk Manager features including their reporting in Confluence or in Jira Dashboard.
Jira Support Request = Cause
In case your customer request should be treated as a cause of a risk and you would like these risks and causes be automatically populated in the SoftComply Risk Manager, the following steps will guide you through it.
1. Prerequisite #1: You have set up a Risk Management project with a Risk Matrix and Risk Table view with the SoftComply Risk Manager.
2. Prerequisite #2: Your JSM project with a customer support portal is also up and running.
3. Open the service request type that you wish to treat as a "cause" of a new risk and determine the issue type behind it. You can also create a dedicated issue type for this specific case. Thereafter, open your JSM project workflow scheme and the workflow that is assigned to the determined issue type.
a. Next, we will set up the Jira workflow to trigger "Create new risk" from the issue.
             b. Add new transition from one transition to another (or even back to itself as seen below on screenshot). Name the transition to something like "Create new risk". On the screenshot below there is just a transition to itself: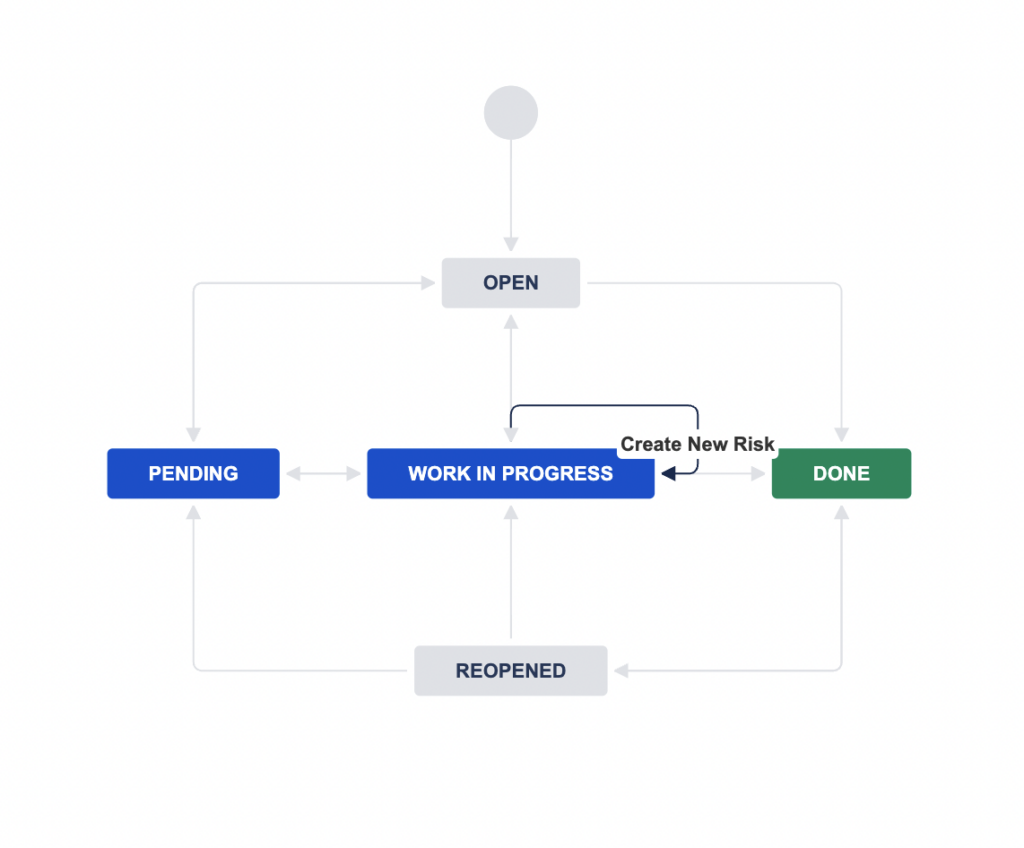 c. You can now see an extra button in the Jira issue view of the service request titled "Create New Risk" when the service request is in a certain state.
4. Next, add the following Jira Automation rule:
5. Now, each time you need to create a risk from the JSM service issue, simply use the "Create New Risk" button and it will automatically create a risk in your specified risk project with the JSM service issue already linked as a cause. 

See the images below: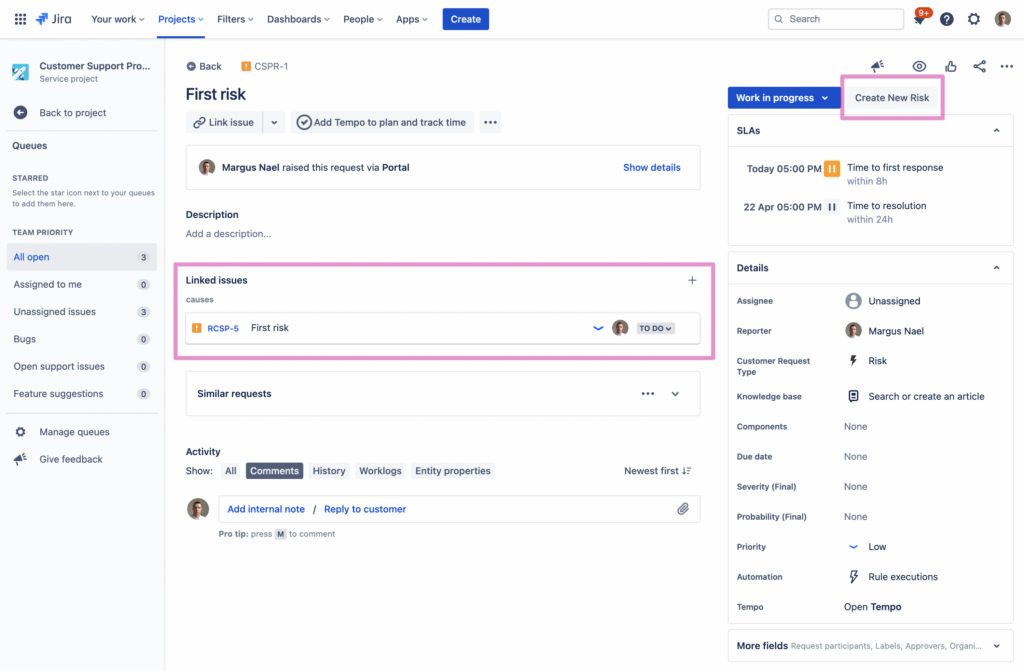 Summary
You now have two ways of automating risks or causes from a JSM project to your risk project in the SoftComply Risk Manager.
For additional tips and tricks on how to use automation for your risk management, please check out other articles in our Knowledge Base.
In case of any questions about the Risk Manager apps, feel free to book a demo call with us.
Did you know that the SoftComply Risk Manager is the only risk management app in Jira Cloud that generates risk reports automatically in Confluence Cloud? There is a free app for that – the SoftComply Risk Manager for Confluence.
By Marion on 22 Apr 2022