How SoftComply eQMS helped speed up the CE-marking of munevo DRIVE – a Case Study
"If you are developing medical device software and need to go through the certification process, look what SoftComply has to offer!", says Claudiu, the co-founder and CEO of Munevo.
Munevo is the company behind munevo DRIVE – the first wheelchair control system that uses smart glasses enabling people to become more independent and safely drive their wheelchair handsfree.
People who have spinal cord injuries or muscular diseases and cannot use their hands any more benefit the most when using munevo DRIVE as it gives them more independence and increases their quality of life.
With an increasing amount of time people spend sitting in an office and doing little exercise both the muscular diseases as well as spinal problems are currently on the rise. In addition to that, sports injuries like skiing and biking accidents greatly contribute to the rise of spinal cord injuries.
munevo DRIVE is a smartglass application that uses the sensors built into smartglasses to translate head movements into control signals. These signals are then forwarded by means of the adapter to the control unit of the wheelchair. Thus, the hands-free control of the wheelchair by munevo DRIVE is  possible. Through the menu you also navigate with head movements.
This is the story of how SoftComply eQMS helped munevo DRIVE in their journey towards CE-marked medical device that has allowed them to enter the EU market in January 2019.
Q: When in the device development did you realise that you needed to implement a compliant Quality Management System?
The development of munevo DRIVE started in 2015. The certification process for CE marking the medical device started in the middle of 2017. As soon as we were awarded the grant for the device development, we started to learn about the regulatory requirements for medical devices and what we needed to do to meet them. With the munevo DRIVE adapter being built by our manufacturing partner, we first learned about and used parts of their Quality System before we started our own Quality System development.
Q: When you look back at your device certification journey, would you have started the QMS implementation later or earlier than you did?
It would be great to start as early as possible or as early as your resources allow it and then have someone who always keeps the Quality Management System up-to-date. At the same time, there is also a positive aspect about all of the team having to work on the Quality Management System together – namely, everyone in the company now understands what the entire Quality System is about.
Q: What made you decide to go with the SoftComply eQMS?
Although we had discussed with a few consultants who offered us Quality System documentation templates and their support in implementing these, our developers were advocating for SoftComply eQMS since it is integrated to Confluence.
Munevo development team was using Atlassian tools Jira and Confluence in the development and it was easy to go with SoftComply eQMS which is an app for Confluence. The attractive price and integration with Confluence was the first most important argument. Once we started using it though it became clear that the biggest benefit was actually the extremely practical guidance that is provided within the SoftComply eQMS to finalize the Quality System documents resulting in no additional consulting needs.
Q: What did you like most about SoftComply eQMS?
The pragmatic examples in the SoftComply eQMS that could be followed to finalize the QMS documentation by ourselves.
The digital platform for all the templates as opposed to paper based documents making it easy to draft, share, approve within the team.
Integration with Jira – links from our QMS documents to our product requirements or tests, e.g. validation and verification reports.
The additional functionality that is available from the entire Atlassian ecosystem of apps makes everything easy to do.
Q: How long did it take you to finalize/customize the Quality Management documentation?
It took our software team of 2 developers no more than 2 months to finalize all the documentation in parallel to their everyday job.
The most time-consuming part of it was matching the already existing documentation to the well-structured QMS provided by the SoftComply eQMS.
Improving the existing processes based on the information in the SoftComply eQMS also took a bit of time but was greatly appreciated as it might have otherwise be overlooked!
Q: What were the most important lessons you learned on your journey that you would like to pass on to other medical device startups as they embark on their QMS implementation journey for CE-mark?
If you are a medical startup and you are developing software using Jira and Confluence and going for certification, look into SoftComply!
Thank you, Claudiu & best of luck to munevo DRIVE!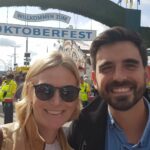 Claudiu of Munevo & Marion of SoftComply in Munich
You can learn more about SoftComply eQMS on Confluence and SoftComply Risk Manager on Jira for medical device companies here!