In Search of a Compliance Solution that Lets You Sleep at Night
Looking for the Compliance Solution for eDMS and Risk Management at Skinuvita
Skinuvita is a German startup making phototherapy more accessible to patients with chronic skin diseases through e-health technologies for a safe and efficient home treatment.
Phototherapy is a highly efficient first-line treatment for chronic skin diseases. However, it's difficult to apply, because patients can't integrate the required frequency of 3-6 weekly sessions at the doctor's office into their daily lives.
The main problem of home-therapy is that dermatologists don't have access to remote therapy data of patients (e.g applied dosage and response to sessions) and there is consequently no basis to develop and adapt therapy plans which is a central element of the guidelines for a prescription. This results in the avoidable prescription of immunosuppressive medication, connected to stronger side effects (patients) at a higher cost (insurance).
Skinuvita uses e-health technologies to enable a safe and efficient phototherapy treatment. Skinuvita's new product is based on a rental model covering the patient's therapy duration (ca. 3 months).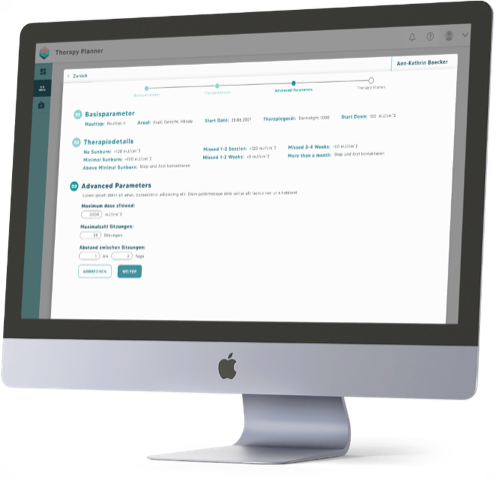 The product includes 3 interconnected components:
Patient app that guides through the therapy and analyzes the response to treatment sessions for dosage optimization;
Dermatologist's monitoring tool for supervision and adaptation of dosage plans;
Smart UV therapy device with personal identification enabling automatic dosage transfer. This development is done in cooperation with a leading manufacturer of UV therapy devices.
THE RIGHT COMPLIANCE SOLUTION for DOCUMENT MANAGEMENT
Following is a transcript of the interview with Jens, Skinuvita's CTO, about automating their regulatory compliance, specifically their Quality and Risk Management processes on Atlassian Jira and Confluence tools with the help of Atlassian apps.
Q: What were the must-have requirements for your Compliance Solution for electronic Document Management?
A: We looked for an Compliance Solution for Skinuvita that had to fulfil the following document management requirements:
Electronic Document Management – no more need for paper-based system,
Automated Approval Processes,
Electronic Signatures,
Good text-editing capabilities,
Integrated to Jira and Confluence as these are already in use in the company,
Usable via web-browser so developers don't need to use a specific operating system.
---
Q: Which Compliance Solutions for Document Management did you try and which one did you pick?
A: We tried several solutions for electronic Document and Quality Management including MS SharePoint with Power Automate flows and many standalone solutions.
The main issue with the other compliance solutions was that they were either not integrated to Atlassian tools (like PLM Solution from Siemens) or simply too expensive.
None of the other compliance solutions we investigated met all the must-have requirements for the electronic Document Management Solution, whereas the SoftComply Cloud eQMS Solution on Confluence met them all.
THE COMPLIANCE SOLUTION FOR RISK MANAGEMENT FOR US
Q: What were the must-have features for the Compliance Solution of Risk Management?
A: We were looking for a risk management solution that was developed for medical device developers, i.e. where we could pick the suitable risk evaluation and risk assessment model, and would have the following features:
A compliance solution that has guidance in the form on risk templates was also an important feature.
Solution customizability for scalability was also very important.
It was also vital that the compliance solution integrated well with Jira – our software developers were experienced Jira users as it supports the Scrum methodology best. It wasn't difficult to convince the non-technical team to use Jira once the compliance tools on Jira and Confluence met our requirements.
---
Q: Which Risk Management solution did you choose?
A: We started with Excel and some of our mentors also gave us certain Excel tables for medical device risk management but manual risk traceability for large Excel tables did not work out. Formatting those large Excel tables took us as long as the actual management of risks content-wise.
For our Risk Management needs we decided to go with the SoftComply Risk Manager app on Jira. Other risk management apps on Jira did not meet our requirements.
We needed a compliance solution that was integrated to Jira which our developers were already using and the SoftComply Risk Manager, being built specifically for safety-critical industries, met all of our requirements. 
The fact that the SoftComply Risk Manager offers risk templates for FMEA and Hazard Analysis out-of-the box that can be further customized provided a wonderful starting point for us.
SECRET OF A SUCCESSFUL COMPLIANCE SOLUTION FOR eDMS
Q: Many medical device and digital health startups struggle with implementing their electronic Document Management System. What did you find was the key to successful implementation of your eDMS?
A: We found that the key factors of successfully implementing the eDMS were the following:
Having someone to work on the Quality/Documentation System fulltime in Skinuvita,
Having a Quality System that has great embedded guidance in the templates and SOPs,
Some consultancy like mentorship is also great to get.
eDMS COMPLIANCE SOLUTION & EFFICIENCY
Q: How much time do you think the SoftComply Cloud eQMS Solution saved you?
A: We believe that the automated document management system with digital approval flows of the eQMS saves the management at least 5-10h per month. SoftComply Cloud eQMS is easy to understand and configure while MS Sharepoint required a lot of administrative oversight.
BENEFITS OF THE SOFTCOMPLY COMPLIANCE SOLUTIONS
Q: What are the main benefits of the SoftComply Compliance Solutions for Document and Risk Management & why would you recommend them to other medtechs and digital health startups?
A: We would definitely recommend these compliance solutions to other startups because they are:
Affordable – most affordable regulatory compliance tools out there you can get.
Integrated to Atlassian Jira and Confluence that a lot of startups are using already.
Supported as you go based on your needs. For complete newbies more help may be needed but for those who have in-house Quality Manager the onboarding support is just right. SoftComply's technical support is fast and extremely helpful.
Configurable – SoftComply solutions are completely customisable and thereby you can fit them perfectly to your processes.
Made for medtechs – lots of practical guidance embedded in both of the solutions, full example QMS documentation set for the eQMS content as well as ready-made templates for Hazard Analysis and FMEA in the SoftComply Risk Manager solution.
ACHIEVING REGULATORY COMPLIANCE: RECOMMENDATIONS
Q: Do you have any recommendations to other medical device and digital health startups in achieving regulatory compliance?
A: Indeed, three things come to mind that could help a medical device or digital health startup to achieve regulatory compliance:
Start as early as possible with the implementation of the QMS system and the technical documentation.
Get familiar with the international standards – in addition to ISO13485, ISO14971, IEC62304 and IEC60601, check also the IEEE standard for software documentation before your development work.
Most companies do the QMS retrospectively so having software documentation from the beginning will help you write the technical documentation for your QMS as well. Find a solution that fits your company's workflows so you don't need to change your processes because of the tool.