What is a Quality Management System?
You probably know that Medical Device companies are required to have a Quality System in place, in order to be able to market their products in most countries in the world.
This Quality System, or Quality Management System – QMS, is a collation of Procedures, documents, templates and records that describe and dictate how certain activities must be carried out for medical device products. This QMS must conform to certain requirements, most commonly ISO 13485 (EU, Canada, Australia) and 21 CFR 820 (USA).
SoftComply eQMS on Confluence
The SoftComply eQMS is exactly this. A system of electronic documents (thus the "e" of eQMS), conforming to ISO 13485, IEC 62304, ISO 14971 and 21 CFR 820, and growing.
You will find a Quality Manual, that explains how the QMS is organized and the different aspects of the regulations covered, a Quality Policy, a brief statement that aligns with your organization's purpose and strategic direction, provides a framework for quality objectives, and includes a commitment to meet applicable requirements, and a set of Procedures (20 SOPs) and 55 Technical Document Templates.
All documents are prefilled and embed guidance for you to finalize. It is a self-sufficient system, where the Procedures explain the processes and the Templates are used to gather and document the required information.
Any QMS then needs a "home", i.e. an official repository or place, physical or electronic, where the documents reside. It is possible to have a paper-based QMS, where the documents are printed and managed in their paper form, but this defied the purpose of having an Electronic system.
The SoftComply eQMS lives within Confluence, where Confluence is more than a mere editor like Word, but it actually "manages" the documentation for aspects such as versioning, links, references, grouping in Spaces, and so on. Confluence is now a "Document Management System" and the eQMS is only a portion of what a company may store in Confluence. In addition, signing electronic documents is a natural expectations in a Document Management System; Confluence does not have any built-in signature capability, but there are Apps, such as Comalatech's products, that fill this gap.
The MediCompli Solution – FDA 21 CFR 11 compliant Document Management System
Document Management Systems (DMS) with e-signatures, must abide to certain requirements, in the Medical Device market, such as preservation of the documents, their availability, access control, and more. These requirements are relatively loose in Europe, but 21 CFR 11 in the USA list a number of detailed clauses that make it not trivial to comply with. While having your eQMS on Confluence Cloud with a basic electronic signature App may be sufficient for the EU, the US market requires a more complex ecosystem.
The MediCompli solution is what you need for the US market. It expands and configures the Confluence Document Management System to be fully 21 CFR 11 compliant. MediCompli comes with a pre-installed SoftComply eQMS for completeness, but the two objects are independent. MediCompli extends the SoftComply eQMS with FDA compliant Document Approval, CAPA, Training and Change Request workflows and compliant access management.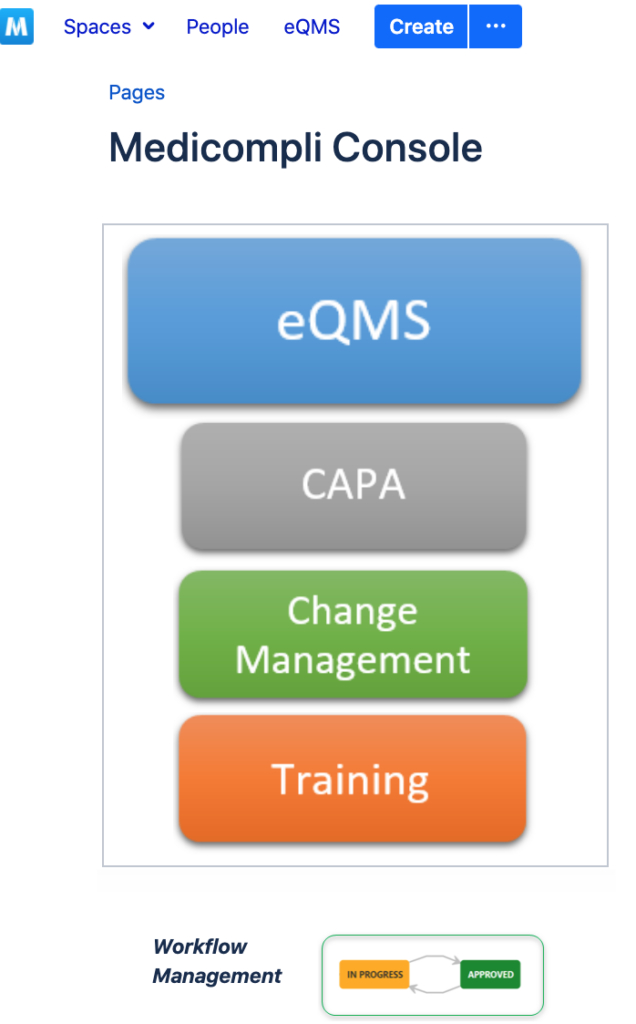 The eQMS is the actual content and can be used on any Confluence instance, cloud, server or datacenter, while the MediCompli Solution is a Compliant Document Management System that will contain more than just the eQMS.
To learn more about the SoftComply eQMS and/or the MediCompli solution, please drop us an email to arrange a demo call. After the demo call, you will also be able to try out the solution in a trial environment.